Published July 28, 2020
I don't have an Eddie Shack story, per se. Just like I don't have a Babe Ruth story. Doesn't mean that I don't appreciate the legend.
But at least I saw Shack, who died the other day at age 83 from cancer, play in the NHL. Only with Shack, he didn't so much "play" hockey as he "committed" it.
Baseball has had more than its fair share of "flakes" and clown princes throughout its history, mainly because the game itself is played at a lazy pace, is non-contact and lends well to goofing around and self-deprecation.
Hockey has had some characters, but so many of them in a psychotic way. Hockey's flakes have often been guys who you'd want on the ice as much as possible, for off it, who knows what they'd be capable of doing. What else do you expect from a sport where aggravated assault is punishable by a two minute breather?
Eddie Shack played a violent sport in a cartoonish way, and I don't mean that to disparage him whatsoever. Shack's hockey world was like the movie "Slap Shot"—over the top with physicality and showmanship.
The ditty, "Clear the Track! Here Comes Shack," created by hockey announcer Brian McFarlane, didn't create the persona of Shack; the song was born from it. And it perfectly captured the "bull in a china shop" way that no. 23 roamed the ice.
Shack's greatest success—personal and team—came with the powerful Toronto Maple Leafs clubs of the 1960s, with whom Eddie won four Stanley Cups. Though he was never a big goal scorer, Shack potted 11 or more goals in five of the seven years he spent in Toronto during the Leafs' heyday (1960-67).
Shack was also comical looking. Even before he grew the bushy mustache that would become his trademark late in his playing career, Shack stood out for his big nose, stork-like posture and occasional devilish grin on the ice. They listed Eddie as a left winger, but the truth was that you could find him anywhere on the ice at any given moment, often crashing into someone or something.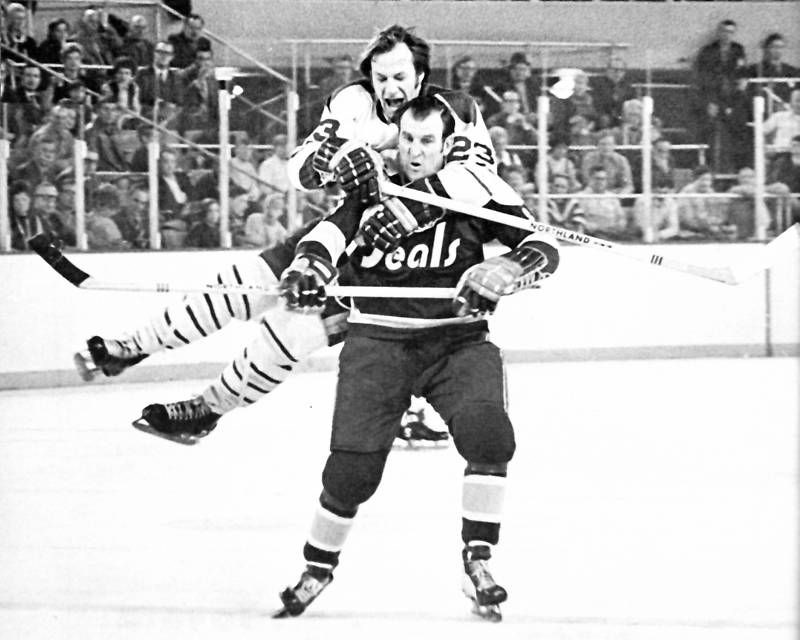 Shack is most closely associated with the Leafs, for his two stints and nine seasons in Toronto. But Eddie was a vagabond for the other eight years of his 17-season era, with short, two-to-three year appearances with five other NHL teams (Bruins, Kings, Penguins, Rangers and Sabres) between 1959-75.
I only saw Shack play in person once—in November 1973 at Olympia Stadium when he was back with the Leafs for his final two years in the league. I don't remember much of the game, a 5-4 Red Wings win, but I do remember sitting in one of the end zones and being eager to see Eddie take the ice for his first shift. I kept watch for him all evening, and sure enough, Eddie all but climbed on someone's back and got two minutes for his efforts.
Shack's legend didn't end when he hung up his skates. He became one of Canada's most popular ex-athletes-turned-pitchmen, popping up in a variety of TV commercials, the mustache bushier than ever and his mischievous cackle properly captured by the cameras and microphones. Shack was also beloved for his being approachable at public appearances, signing autographs and engaging with fans for hours on end.
Everything is so serious anymore. Pro sports is not excluded from this truth. Even baseball's goofballs seem to be fading away with time. We don't have flakes and free spirits so much as we have immature brats. They don't make us laugh—they make us roll our eyes.
Eddie Shack wasn't hockey's only loose cannon—far from it. But he played a fast, physical, sometimes angry game with a wink and a smile. You got the impression, when you watched Eddie play, that even he didn't know where he was going and what he was doing—or what would happen next.
It was refreshing, that's for sure.