Published Oct. 13, 2019
If Justin Abdelkader's career didn't go in the toilet, there wouldn't be any question about who the next Red Wings captain would be, as there is now.
The team is currently going with four alternates, as there's apparently some hesitation in pinning the "C" on Dylan Larkin, as has been bantied about for quite some time.
But the point should be moot. The Red Wings shouldn't be considering going all Steve Yzerman/1986 on Larkin, the 23-year-old wonder.
The C should be Abdelkader's. But not only is Abby unworthy, his role on the team is undefined.
Summer of 2016: Lock him up!
Full disclosure: I wanted the Red Wings to lock up the MSU grad in the summer of 2016, ensuring that he not be able to test the free agent waters. I felt strongly that Abdelkader was a future team captain, due to his grittiness, nose for the net, his heading into his prime and his tenure with the Red Wings (he debuted in 2008).
The Red Wings took my (ahem) advice, and signed Abdelkader to a seven year, $29.75 million deal in 2016. Captaincy after Henrik Zetterberg's waning but brilliant career seemed to be the logical next step.
But the Abdelkader who we knew at age 29 when he inked his big contract, has vanished. Poof!
He's on the wrong side of 30 now (he'll be 33 in February) and I think it's safe to say that we won't see the same no. 8 as we did pre-contract. Ever.
But why?
Before 2016's deal, Abby was about as complete a forward as you could hope to have in the NHL. He had popped in 42 goals the previous two seasons. He had amassed 192 penalty minutes. But more than those tangible numbers were the intangibles.
Abdelkader was hard to play against. He agitated. He got under people's skin. He was always around the puck—in the corners, in open ice. Even on the nights when he didn't register a point, you knew he had played. He made his presence felt.
All that is gone now.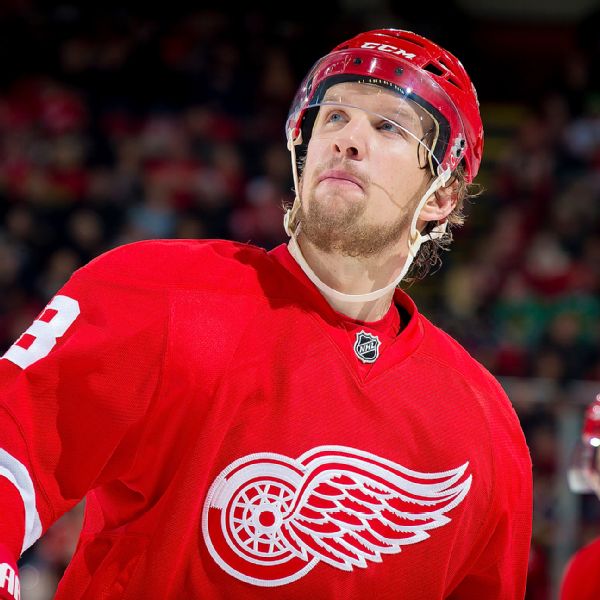 No identity, no presence
Abdelkader once had an identity. Now, he doesn't. Gone are those intangibles. He's just another forward. On many nights he's invisible. The hard numbers went down the tubes as well. In the three seasons combined after signing the big deal, Abby has scored just 26 goals. This season is the same as those three: zero goals in the Red Wings' first five ganes.
Because this nosedive into oblivion has coincided with the Red Wings' rebuild and the emergence of youngsters like Larkin, Anthony Mantha, Tyler Betuzzi, Andreas Athanasiou et al, Abdelkader almost seems to get a pass from the fans and the media. Maybe it's because he wasn't a free agent signed away from another team, like the Stephen Weiss debacle a few years ago.
Abdelkader, by all rights, should be booed out of town. He's committing larceny every night in plain view. But because the team is in transition, all is forgiven, I guess.
By all accounts, no one in the Red Wings organization has given up on Abdelkader. Coach Jeff Blashill, just before the season started, spoke of Abby playing "on the verge of recklessness." Blashill commented that just because a guy who once scored 20 goals hasn't done so in a while, it doesn't mean that he can't do it again.
Those are either words of encouragement or of grand delusion.
Untradeable
To his credit, Abdelkader, in a fit of self-reflection, knew that his recent play has been unacceptable, and thus engaged in an intense off-season training regimen.
"More focus on speed and quickness," said Abdelkader of his training. "The game's so fluid, so fast, I'm just making sure I'm giving myself the best opportunity to go out and be the player I know I can be."
The trouble is, the player that Abdelkader thinks he can be, might not be the player he is now able to be. Hockey players who are about to turn 33 typically don't find the fountain of youth and turn back the clock.
But what else can the Red Wings be, other than patient? They can't trade Abby, with this $4.75 million payroll hit per season and with three years left on his contract after next spring. At least, they can't trade him without swallowing large portions of the deal whole.
They could cut him, but that simply hasn't been the Red Wings' style, although with new GM Steve Yzerman on board, you never know.
Abdelkader is holding the team hostage now. Believe it or not, despite his rotten production since 2016, he still holds the cards. His past performance gives management a glimmer of hope that he can recapture some of that, yet his most recent body of work suggests otherwise.
The big contract may be an albatross for the Red Wings, but it's a lifeline for Abdelkader's roster spot.
What I don't understand is the lack of physical presence and the disappearance of his agitating, grating ways. Why did that have to go away with his scoring production? Honest to goodness, on many nights after a game I couldn't tell you whether Abdelkader was in the lineup or not. If you had falsely told me that he was sitting in the press box as a healthy scratch, I would have believed you.
In a way, maybe this is all moot. Abdelkader doesn't represent the future of the Red Wings. And he's not why the team has missed the playoffs the past three springs.
But wouldn't it be nice if, during this transition, Abdelkader could go back to being Abdelkader—even a little bit? Wouldn't that help the cause in the short term?
Forget being the next captain of the Red Wings. All we wonder now is, how long can Justin Abdelkader remain on the team?
It's quite a tumble, I tell you.