Published Dec. 2, 2018
Before Bob Probert tantalized the city of Detroit while he terrorized the NHL, skating the circuit with the heavyweight championship wrapped around his waist on a nightly basis, there was Dan Maloney.
Before Probert teamed with Joey Kocur to provide a 1-2 punch (literally) that was unrivaled in the league, there was Maloney's pairing with Dennis Polonich in Detroit.
Probie and Joey played for the Red Wings when hockey became chic again in the Motor City. They arrived when the team was on the cusp of rising from being known as the Dead Things, and they were there when playoff hockey returned with a vengeance—theirs and the team's.
Maloney and Polo played in the Dead Things Era, but their place in franchise history ought not be forgotten.
Sadly, it appears that at least Maloney's half has been wiped—judging by the local papers in town.
Maloney: he won his battles even when Red Wings lost theirs
Dan Maloney is dead. Perhaps you heard. Chances are that if you did, it was from scouring the Internet. It certainly wasn't because the Detroit Snooze and Free Dreck told you about it—though they have finally, days later, given his demise some belated ink.
Shame on them.
Maloney was 68 when it came across the wire on Nov. 20 that the tough guy had passed. Cause of death wasn't disclosed.
So yeah, this column comes some 12 days after Maloney passed. I would have written about it earlier had I known. I'm looking at you, Detroit papers.
But enough wasting space on the systematic lowering of journalistic standards around here. This is about Maloney.
Maloney was widely regarded in his prime—which came right smack during his time as a Red Wings forward (1975-78)—as being among the top two or three fighters in the entire NHL.
He had the typical face of an NHL enforcer: nose out of joint, eyes seemingly forever partially closed, plus a wry smirk at the rest of the league.
The fact that Maloney played on some pretty bad Red Wings teams, and that he was here for less than three years, shouldn't take away from his presence with the franchise.
Two big trades
First, was that Maloney was part of two pretty big trades involving the Red Wings.
The first occurred in the summer of 1975, when the mega-talented pipsqueak, Marcel Dionne, became disenchanted with the Red Wings organ-eye-ZAY-shun and wanted out, refusing to re-sign with the team.
Jack Kent Cooke, owner of the Los Angeles Kings, made Dionne an offer he couldn't refuse, and so Marcel headed to the City of Angels.
But there was the matter of compensation for the Red Wings. The NHL was years away from pure, unadulterated free agency in those days.
When the announcement came of who the Red Wings were getting for the dynamo Dionne, who had scored 139 goals in his four seasons in Detroit, I think even I, as a 12-year-old, gagged.
Maloney was coming over from the Kings, along with aging defenseman Terry Harper. Straight up, for Marcel Freaking Dionne. The Red Wings got rooked.
Harper was 35 and had been a pretty valuable, albeit unheralded, piece of some Stanley Cup-winning Canadiens teams in his heyday. But this wasn't his heyday. Although, Harper did play in all 80 games for the Kings in 1974-75. Still, yippee.
Then there was Dan Maloney.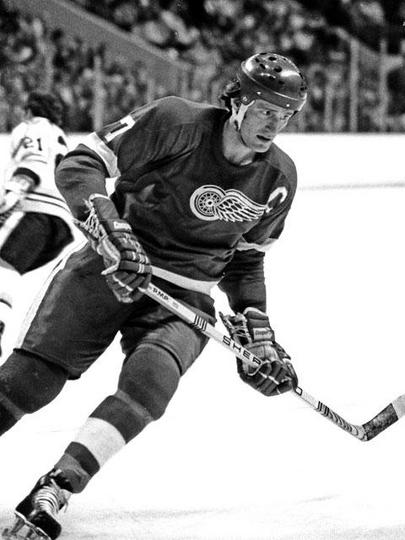 While reasonably knowledgeable Red Wings fans had likely heard of Harper, it was only league geeks who knew who Maloney was.
Maloney made his league debut as a 20-year-old with the Chicago Black Hawks in 1970. He was traded to the Kings in 1972.
His anonymity wasn't among those in the league—especially those who had been pummeled by his right hand. Folks in the know, knew that Danny Maloney was a tough customer, who shouldn't be trifled with.
In 1974-75, Maloney proved that he could put the puck in the net in addition to putting his opponents flat on their back on the ice.
He played all 80 games and scored 27 goals, adding 39 assists to go along with 165 penalty minutes. He would have been considered an emerging power forward, had that term been used in league circles back then.
But still, Maloney and Harper for Marcel Dionne wasn't fair. But the Red Wings took their medicine and soldiered on.
Adding insult to injury was that Harper, like Dionne, wanted no part of the Red Wings. He fought the league, eventually capitulating and arriving in Detroit, kicking and screaming.
The second big trade involving Maloney and the Red Wings came late in the 1977-78 season, which was ironically a campaign where the team briefly rose from the ashes and became relevant again.
GM Ted Lindsay, despite his mantra of "Aggressive Hockey is Back in Town," traded Maloney to Toronto for winger Errol Thompson, who was all hands and no fists.
The trade was a pretty big deal at the time. The Red Wings were charging toward their first playoff berth in eight years, and so were the Maple Leafs. The Wings wanted more scoring punch, and the Leafs just wanted more punch, period. They got it in Maloney.
Thompson was as advertised, tallying 77 goals in three full seasons with the Red Wings.
And Maloney?
True to form, he didn't score as much for Toronto, but he gave the Maple Leafs a physical presence that had been missing from the lineup, for four-plus seasons before retiring at age 32.
It was a relatively young age to hang up his fists, but Maloney wanted to get into coaching, which wasn't the usual post-playing path of pugilists.
A power forward before there were power forwards
But Maloney was more than a fighter, really. He scored 192 NHL goals, number one. Number two, there's more to physical presence and intimidation than merely duking it out. Maloney was fierce in the corners, won many a puck battle and created a wide berth on the ice. He was someone that you had to account for when you were on the ice—even if it was for your own physical well-being.
As for his time as a Red Wing, Danny Maloney was so well-respected in the dressing room that he wore the A as an alternate captain and occasionally the C when needed. Like Probert, Maloney could bring fans at the old Olympia to their feet. Many a time he was cheered uproariously as he skated to the penalty box, blood often dripping from his face, which looked like a Picasso.
When the Cup-contending Philadelphia Flyers, aka the Broad Street Bullies, came to town in Maloney's time as a Red Wing, those games were always bloodbaths. And Danny was usually awash with said blood—and not necessarily his own.
Maloney's career as a fighter was in the spotlight in the 1975-76 season, when he pummeled Brian Glennie of the Maple Leafs in Toronto, a classic beat down that led to criminal charges. 
But like I said, Dan Maloney was more than a fighter, no matter how feared he was in that regard. It wasn't his fault that he was essentially traded to Detroit for Marcel Dionne. The Red Wings didn't win with Marcel, either. May as well have some fun while losing, eh?
Maloney was a complete power forward, really. He represented the Red Wings in the 1976 All-Star Game, in a season in which he replicated his Kings performance from the year before: 27 goals, 39 assists.
For whatever reason, the Detroit papers failed to report Maloney's death when it occurred. But that snub should have no ill bearing on no. 7's legacy as a Red Wing.
Make no mistake. We lost a big, albeit brief, part of Red Wings history on Nov. 20.