They are hanging from the rafters at the Joe Louis Arena, and some of them go back almost 25 years. I wonder if they're ever dusted.
No doubt they will relocate, as will the Red Wings themselves, when the new arena complex opens in time for the 2017-18 season.
They're the seven officially retired uniform numbers in team lore: 1,5,7,9,10,12 and 19.
I don't have to tell you to whom those cherished numbers belonged.
Gordie Howe's no. 9 was retired during the 1971-72 season, but in those days the Red Wings didn't hoist numbers to the rafters, for whatever reason. Never did no. 9 hang at the Olympia, believe it or not.
The first two numbers to be officially retired with a ceremony at JLA were in November 1991, when the Red Wings put nos. 7 and 10 to bed for good, honoring Ted Lindsay and Alex Delvecchio, respectively.
The most recent sweater to be retired was Nick Lidstrom's no. 5.
But I thought it would be fun to take a look back at the players who wore the retired numbers before they were put into moth balls.
Who was the last Red Wing to wear Terry Sawchuk's no. 1? Or Sid Abel's no. 12?
You don't have to do the digging; I already did—and so what follows is a look back at the seven Red Wings who became answers to a great trivia question.
No. 1: Glen Hanlon (last worn in 1990-91)
Sawchuk played in the days when goalies pretty much wore no. 1 or no. 30. Period. Tony Esposito's 35 and Ken Dryden's 29 were exceptions. I remember Gilles Meloche wore no. 27. But the goalies were 1 or 30, as a rule, leaving 2-29 for skaters. Players didn't start wearing goofy numbers until the late-1970s. Now, hockey players wear uniform numbers befitting a football roster.
Hanlon was a 29 year-old goalie when the Red Wings acquired him in July 1986. He had established himself in Vancouver and was coming off two seasons with the Rangers when the Red Wings got him for defenseman Jim Leavins.
As a Red Wing, Hanlon played five seasons and was huge in the 1987 playoffs, posting two shutouts, a 1.67 GAA and a save percentage of .943. He was a redheaded man of sharp wit and self-effacing humor. In 1988, after the Flyers poured 10 goals past him one night at the Joe, Hanlon joked, "OK, who put the soccer net behind me?"
The Red Wings didn't retire no. 1 until 1995, but Hanlon was the last to wear it, in 1991.
No. 5: Rick Green (1990-91)
Before Lidstrom, there was Rick Green.
Green, a defenseman, was the first overall pick in 1976 by the Washington Capitals.
After six seasons in Washington, Green was part of a huge trade with Montreal that shipped Green and Ryan Walter to the Canadiens for Doug Jarvis, Brian Engblom, Craig Laughlin and Rod Langway.
The Red Wings acquired Green, by then 34 years old, from Montreal, who still had his rights after Green played a year in Italy.
Green played 65 games for the Red Wings in 1990-91. Lidstrom debuted in October 1991.
No. 7: Tom Bissett (1990-91)
Who?
Bissett, a center, was drafted by the Red Wings in the 11th round of the 1986 draft out of Michigan Tech.
He went back to college and didn't turn pro until 1988-89, when he played for Detroit's top minor league affiliate, the Adirondack Red Wings.
Bissett had a cup of coffee with the Red Wings in 1990-91, suiting up for five games and slipping sweater no. 7 over his head, making him the last Red Wing to wear the number before its retirement.
Bissett is in the Michigan Tech Huskies Hall of Fame.
No. 9: Roy Conacher (1946-47)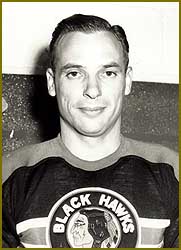 In the interest of transparency, this is an educated guess. Hockey-Reference doesn't list jersey numbers on its website for the 1946-47 season, when Howe debuted. What is known is that Howe wore no. 17 initially, and he switched to no. 9 in his second season. Using unscientific deduction and web research, I believe that Conacher, a left wing, was the last to wear no. 9 before Howe donned it for the next 24 seasons.
Conacher played in 60 games for the Red Wings in 1946-47 at the age of 30. He popped in 30 goals, which ended up being a career high for him. Detroit traded Conacher to New York in October 1947, but he refused to report to the Rangers. Ten days later, the Red Wings traded him again—to Chicago. Conacher reported to the Black Hawks (pictured).
No. 10: Jimmy Carson (1990-91)
Carson is interesting because not only was he the last Red Wing to wear no. 10 before it was retired, he then switched to no. 12, and thus became one of the last Red Wings to wear that number before it, too, was retired.
Carson was a local kid (Southfield) who badly wanted to play for the Red Wings. But even though Detroit had the no. 1 overall pick in 1986, the Red Wings selected Joe Murphy instead of the local boy Carson, who was drafted by Los Angeles.
Carson openly campaigned for a trade to Detroit whenever rumors of a deal popped up.
Carson was involved in a trade, all right—perhaps the most shocking in NHL history.
Carson was part of the package that the Edmonton Oilers got for Wayne Gretzky in the summer of 1988.
Jimmy finally got his wish on November 2, 1989, when the Red Wings acquired Carson in a big trade that sent Petr Klima—and Joe Murphy—to Edmonton.
No. 12: Mike Sillinger (1993-94)
Sillinger was a number whore.
He only played parts of four seasons as a Red Wing, yet he managed to wear five different numbers in Detroit.
The last was 12, in 1993-94, before it was retired to honor Sid Abel.
Sillinger was the Red Wings' first round pick in the 1989 draft, and he went on to have a decent, though well-traveled,  NHL career: 19 years, 240 goals, while playing for—count 'em—12 NHL teams.
All told, Sillinger wore 10 different uniform numbers in the NHL.
No. 19: Randy Ladouceur (1982-83)
Steve Yzerman, as many Red Wings fans know, chose to wear no. 19 because his favorite player was Brian Trottier, Hall of Fame center for the New York Islanders.
Everywhere Yzerman played, he wore no. 19.
So when Stevie arrived in Detroit in 1983, he managed to convince Ladouceur, a defenseman who preceded Yzerman to the NHL by one year, to switch from 19 to 29.
Ladouceur played for the Red Wings from 1982-1987. Detroit traded him to Hartford in January 1987 for Dave Barr.
Ladouceur played 14 years in the NHL before becoming a longtime assistant coach in the league.
So there they are—the Ignominious Seven.
Don't you feel smarter now? Now you're ready to win some money with some bar bets.