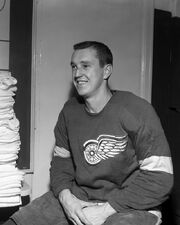 THE DON POILE FILE:
Born: June 1, 1932
Position: Center
NHL games played: 66 (all with Red Wings)
1954-55 stats: 4 GP; G: 0; A: 0; 0 PIM
CAREER: GP: 66; G: 7; A: 9; PIM: 12
Don Poile was one of those hockey players who found great success in the minor leagues but who wasn't able to really crack that NHL nut.
Poile, a center, played just four games with the 1954-55 Stanley Cup champs and resurfaced with the Red Wings three years later, participating in 62 contests.
But it was in the minors where Poile thrived.
He scored 261 goals playing in four different leagues, with a career high of 42 tallies coming in 1952-53 while playing for Milwaukee in the International Hockey League.
Poile found it hard to work his way into the talented Red Wings lineup, spending most of his time while in the Detroit organization playing for the Red Wings' minor league affiliate in Edmonton.
Poile, a native of Fort William, ON (as was teammate Alex Delvecchio), had a very famous hockey brother, Bud, who is in the Hockey Hall of Fame in the Builders Category.
In fact, Don played for his big brother, who coached in Edmonton.
NEXT WEEK: Hall of Fame defenseman Marcel Pronovost.